Block SpyWare: Prevent data mining snoops from tracking your internet activities.



Strictly remove invasive content like embedded dirty pictures and hidden data-mining advertisements.



Block access to most major sex sites.



Strictly Enforce your internet privacy.



Block In-Line Pop-Ups initiated by embedded web page ads.



Strictly Protect Children from majority of blatant pornographic smut content.


My Computer Cop © Privacy Rights Enforcer
Sharing of your personal information should be something you do of your own choice. On today's Internet, when you share information about yourself and your family, it is MOST OFTEN done by spyware without your knowing it -- without your approval and while breaching your privacy. My Computer Cop, privacy rights enforcer, blocks spyware and other Internet privacy violators and their cookies, and blocks sex sites and pop-ups advertising.


Thousands of spyware snoops hide miniature computer programs in millions of web pages to spy on your web surfing activities and compile a comprehensive database about you. Most of these spies sell the gathered information to third parties. More people than you would want suddenly know more about you than you would have thought to tell them even if you wished to. Thus your privacy is violated without your even knowing.
My Computer Cop, privacy rights enforcer, blocks Internet privacy violators and their cookies, protects personal records and blocks sex sites and pop-ups advertising.

Some spyware emitting web sites force JavaScript code snippets into your computer causing a browser window to open and display undesirable content you did not request (i.e.: Smut, Junk, Ads). Either way, because there are no effective laws enforcing internet privacy, the average computer user is having their online privacy rights boldly violated.
My Computer Cop, privacy rights enforcer, blocks Internet spyware privacy violators and their cookies, protects personal records and blocks sex sites and pop-ups advertising.

My Computer Cop © blocks spyware violators; blocks criminally pornographic sex sites; and steers your computer away from prying advertising trackers. My Computer Cop © also blocks pernicious web spyware activity-monitoring banners and tens of thousands of unwelcome pop-up ads as well as those that scoop information from your computer and relay that information.

What Are My Privacy Rights?
Minimization. Governments and commercial entities should collect the minimum amount of information necessary in order to perform a given function or transaction.
Use limitations and purpose specifications. Data should only be used consistently with the purpose stated at the time of collection and not in other ways without the affirmative consent of the data subject.
Access and data quality. Data collectors must give individuals access to their personal information, allow individuals to correct inaccurate information, and maintain data accurately and only to the extent necessary for the purposes for which the data is to be used.
Accountability. Individuals recognize that rights should have remedies. There should be redress against privacy violators. Effective accountability would require a private right of action, liquidated damages and a grant of subject matter jurisdiction to small claims or higher courts.
Security. Personal information should be protected by reasonable security measures. This includes a requirement to purge customer information that is no longer needed.
Consent. Before data is collected, opt-in consent should be obtained from the individual.
Notice. Individuals have the right to be informed of how their personal information will be collected, used, and stored.

How Severe Is The Privacy Problem?
Before the invention of computers, the legal protection of persons in regard to the content of information was limited. Few provisions existed in the criminal statutes other than those in relation to libel. Since the 1970s, however, new technologies have expanded the possibilities of collecting, storing, accessing, comparing, selecting, linking and transmitting data, thereby causing new threats to privacy.

Most national privacy statutes include, for example, provisions addressing the limitation of data collection or the individual's right of access to his or her personal data. In spite of this tendency, considerable differences in general administrative and civil regulations remain, and whats more, these statutes have no teeth, no enforcement. Enforcement rests squarely on the victim's shoulders.

Crimes against privacy relate to infringements of substantive privacy rights and include such acts as illegal disclosure, dissemination, obtaining of and/or access to data; unlawful use of data; illegal entering, modification and/or falsification of data with an intent to cause damage; collection, recording and/or storage of data, which is illegal for reasons of substantive policy; or storage of incorrect data. Detailed analysis of the respective criminal provisions indicates that these substantive infringements of privacy rights differ with regard not only to the data covered but also to the types of acts punished. They also differ further according to the extent to which the described acts are permitted by law. Some are in fact permitted perhaps through inadvertancy or perhaps even through intent!

An entire industry has grown around the collection of your personal data and sale of that information for advertising purposes - all without your consent. The online advertising industry, primarily the banner ad servers, succeed by charging advertisers a fee for making sure that their ads are put in front of customers who match a specific profile. This practice, called target marketing, isn't new by any stretch. What is new is the power the Internet gives marketers to build massive databases of personal information on unique individuals across multiple platforms. Suddenly the online store that you visit to buy uniforms for your child's local soccer league can be easily connected with your behaviour on financial planning or stock portfolio websites. And you start to see ads for high ratio education funds everywhere, because the database knows you have children in the right age group and the financial stability to afford the product. Instantly. What else can this database and its powerful information be used for? By whom? Is it held on secure servers safe from hackers and other internet criminals? Can it be exploited by terrorists? Kidnappers? Extortionists?

The European Commission is investigating the Microsoft online identification and authentication system. A complainant has alleged that the system is designed to profile users and that the company engaged in unfair and deceptive trade practices.

Testimony in the Microsoft antitrust trial demonstrated that the company intended to build the largest databases of detailed personal profiles anywhere on the planet for targeting advertising.

The Internet was designed as an inherently insecure communications vehicle.

Hackers easily penetrate the most secure facilities of the military and financial institutions.

Internet companies have designed numerous ways to track web users as they travel and shop throughout cyberspace.

"Cookies" is no longer a word associated solely with those tasty sweets hot out of the oven; it now refers to cyber-snooping. Sometimes referred to as "Web Bugs" a cookie is a small data file created by a web site and stored on your computer so that next time you visit, the site's owners can automatically access databank information about you such as your browsing preferences, or your name, address, mother's maiden name, phone number, credit card number and expiry, kid's names, other user's names, bank account, household income, number of family members, type(s) of car(s) owned, mortgage balance and more. Nevertheless, the risk to your system posed by cookies is somewhat less than Java, JavaScript and ActiveX controls which comprise a far more sophisticated threat to your personal privacy or commercial security.

Identity thieves are able to shop online anonymously using the identities of other persons, perhaps you.

Web-based information brokers sell sensitive personal data, including Social Security numbers relatively cheaply.

Web-based genealogy databases contain dates of birth and mother's maiden names, the key pieces of information to commit credit fraud.

How would you like the government to have access to the records of every purchase you have ever made? What about having those records posted to the Web or sold to third parties for telemarketing or other purposes? Should your employer have those records? What about your former spouse?

New rules spell out what a web site operator must include in a privacy policy, when and how to seek verifiable consent from a parent when collecting personal information about children under the age of 13, and what responsibilities an operator has to protect children's privacy and safety online. This has never been enforced!



Software That Enforces Privacy Rights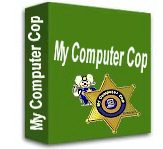 My Computer Cop © blocks spyware, denies notoriously undesirable content and enforces breach of privacy rules. This is achieved without drawing upon neither physical memory nor central processor resources. My Computer Cop © does not require changes to your system and can be implemented on any Windows computer ranging from an 80486-powered machine to a Pentium 4 (or equivalent) or greater.

Once installed, no further action is required. My Computer Cop © is on duty. If you need to visit blocked sites, an administrator can turn it Off and ON quickly. Click User Manual for more information, read more about cyber privacy or download now.